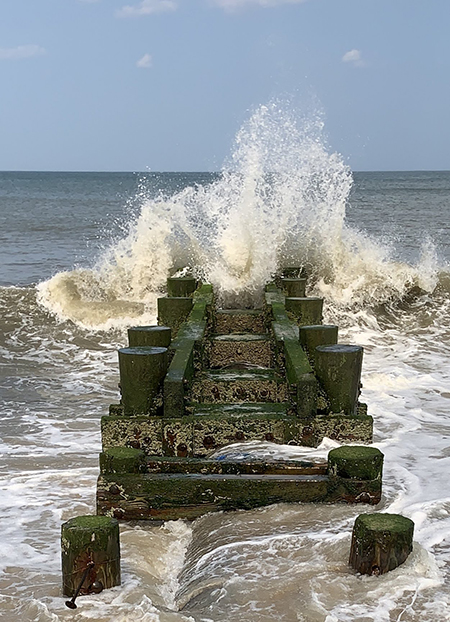 I could see the occasional wave splashing high in the air as it hit the breakwater and I took a few steps toward it as the photographer in me said, "There's something happening over there – move yourself!"
The problem of course with trying to photograph an event that happens quickly, infrequently, and inconsistently is, how to get the shot? How to press the shutter at what Henri Cartier-Bresson termed the, "Decisive Moment?"
Well, these days we're fortunate not to have to take dozens of shots in the hope you've timed it correctly because we have "burst" mode.
On the iPhone, burst mode means keeping your finger pressed down on the shutter release until the event is finished. Don't forget to hold the camera steady, or, better yet, use a tripod or other means of support.
The two photos shown here were the result of about 70 photos being taken in burst mode – Bresson would probably be horrified.
I stood at the end of the breakwater, and waited for a big wave. As the water swelled and looked promising, I pressed the shutter and held the phone steady. I saw the splash through the viewfinder and finally released the shutter. It seemed to last about three or four seconds and I had 35 shots when it was over.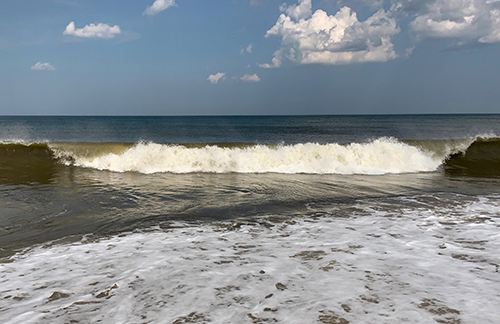 When reviewing the results on the iPhone, a single image is shown to represent the burst and at the top of the screen there's a message that says, "Burst (35 (or some such number) images). Below the image is the word "Select." Tap select and the entire sequence of shots is revealed. You can then swipe side to side through the shots and tap the ones you wish to keep. Those tapped images get a check mark and when you tap "Done," the software asks, "Would you like to keep all the photos or only the checked ones?" Tap "Keep only the favorites" and you're left with one or two good shots that you'll be happy to show people.