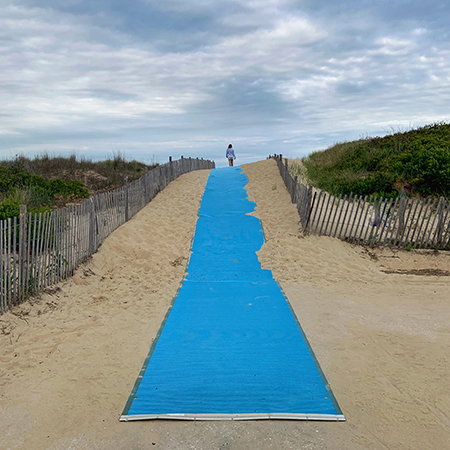 One of the really useful things about cell phone photography is the portability of the camera. And telephone, and message machine, and search engines, and everything else that's crammed into these devices.
Just north of Rehoboth Beach, Delaware is Cape Henlopen State Park. I went there a couple of days ago ostensibly to photograph at sunset the two WWII lookout towers that are on the beach. After parking my bike, I was pleasantly surprised to see a long, blue mat leading over the sand dune on the way to the ocean. I say "pleasantly surprised" because some of those dunes can make it hard going, especially in flip-flops.
I was still busy being "pleasantly surprised" when I noticed someone ahead of me on the mat cresting the dune. I got the feeling that a photo was in front of me but rapidly disappearing. Do you know that feeling? I quickly raised my phone (which happened to be in my hand at that moment) and just had time for one click before the woman disappeared over the dune.
We don't as yet have many photographs on Instagram (and even fewer followers!) but this one got a pretty good reception.
Photographs can appear before you at the most unexpected times so it's wonderful to have something so portable – and providing such high quality output.
Incidentally, the lookout tower shots didn't work out as the sun disappeared behind the clouds right after I arrived and stayed there through the sunset. Can't win 'em all.